A JOURNAL INQUIRER ANALYSIS of the murder case against Richard A. Lapointe
Journal Inquirer 5 part series "Tainted Justice," published from Monday, January 9 through January 13, 1995
by Alex Wood
reprinted with permission
————————————
The Journal Inquirer published the following editor's note with each part of its series on the Richard Lapointe case, from Monday, January 9, 1995, through Friday, January 13, 1995.
Tainted Justice
A JOURNAL INQUIRER ANALYSIS of the murder case against Richard A. Lapointe

EDITOR'S NOTE: To achieve justice – punishment of the guilty, acquittal of the innocent – is why society has police, courts, judges, and juries. Two years ago, following testimony by Manchester police, conviction by a jury, and sentencing by a judge, the doors of prison closed for life on Richard A. Lapointe. Now his case is being appealed by lawyers recruited by a group calling itself the Friends of Richard Lapointe, which is convinced that the Manchester man confessed falsely under duress to the murder of his relative by marriage, 88-year-old Bernice Martin, on March 8, 1987. The reports that begin today in the Journal Inquirer and that will continue for four more days do not try to answer whether Lapointe committed the crime. Rather, they question whether justice is always possible when the law lets police lie to build their case and allows them to extract confessions without tape-recording their interrogations.
————————————
The Journal Inquirer published the following chronology of the Richard Lapointe case on each of the first four days of its series "Tainted Justice," Monday, January 9, 1995 through Thursday, January 12, 1995.
IMPORTANT DATES IN MARTIN MURDER CASE
MARCH 8, 1987: Bernice Martin, 88, is raped, stabbed 11 times, and strangled. Her apartment in the Mayfair Gardens housing complex for the elderly on North Main Street in Manchester is set on fire, and she is left inside to die. Richard Lapointe, who is married to Martin's granddaughter, discovers and reports the fire, and police interview him twice within 24 hours of the crime.
1987-89: Manchester police Detective Michael Ludlow is assigned to head the investigation of Martin's murder. He and other officers compile a list of 38 suspects, including Lapointe.
MARCH 8, 1989: Following Ludlow's promotion to sergeant, the case is reassigned to Detective Paul R. Lombardo.
JUNE 8, 1989: Lombardo interviews Lapointe, who agrees to give him a saliva sample. Subsequent testing of the sample shows that Lapointe's blood type is A and that he secretes into other bodily fluids in detectable quantities the chemicals that determine blood type. Those characteristics are consistent with blood and semen left at Martin's apartment by her apparent killer.
JULY 4 AND 5, 1989: Lombardo, Detective Michael Morrissey, and Captain Joseph Brooks question Lapointe in shifts during 9-1/2 hours, from about 3:50 p.m. on July 4 to 1:21 a.m. the next day. While Lapointe is being questioned, Morrissey goes to Lapointe's home on Union Street in Manchester and interviews his wife, Karen, for two hours, from about 4:30 to 6:30 p.m. Richard Lapointe signs three confessions. He then is allowed to leave police headquarters and go home to his wife and 10-year-old son.
JULY 5, 1989: Lapointe goes to work as usual at his job as a dishwasher. Lombardo writes an affidavit seeking Lapointe's arrest, and Superior Court Judge Raymond R. Norko signs an arrest warrant. Lapointe is arrested at home after work. Unable to post $500,000 bond, he is placed in custody, where he has been ever since.
AUG. 23 and 25, 1989: A two-day preliminary hearing in Hartford Superior Court ends with Judge Harry Hammer finding there is sufficient evidence to try Lapointe for the murder.
DEC. 16, 1991 through FEB. 18, 1992: A hearing is held in Hartford Superior Court before Judge David M. Barry on Lapointe's motion to suppress his confessions.
MARCH 6, 1992: Judge Barry issues 42-page decision refusing to suppress the confessions.
MAY 6, 1992: After weeks of jury selection, testimony begins in Lapointe's trial, with Barry presiding.
JUNE 30, 1992: The jury convicts Lapointe of capital felony murder and eight related charges.
JULY 2, 1992: A hearing begins on whether to sentence Lapointe to death.
JULY 29, 1992: The jury declines to sentence Lapointe to death.
SEPT. 8, 1992: Barry sentences Lapointe to life imprisonment without possibility of release, plus 60 years.
OCT. 26, 1992: Lapointe files notice with the state Supreme Court of his intent to appeal.
JULY 27, 1994: Transcripts of the lengthy trial and pretrial proceedings, necessary for consideration of the appeal, are completed.
FEB. 27, 1995: Lapointe's appeal brief is due to be submitted, to be followed by the state's reply brief, oral arguments, and decision by the state Supreme Court, a process likely to require many more months.
————————————
The following is Part 1 of the Journal Inquirer series "Tainted Justice," published on Monday, January 9, 1995.
Does police lying compromise society's search for justice?
Recording raises hard questions about conviction
By ALEX WOOD
Journal Inquirer Staff Writer
Richard A. Lapointe, sent to prison for life nearly 2-1/2 years ago for the unspeakably brutal murder of his wife's 88-year-old grandmother in Manchester, testified in court that one reason he signed the most damning of his three confessions was that a police detective threatened his family.
Lapointe said Manchester police Detective Michael Morrissey told him at the start of an interrogation on July 4, 1989, that he had just questioned Lapointe's wife – and that if their stories didn't match, his wife could be arrested and their 10-year-old son made a ward of the state.
But Morrissey denied under oath that he made such a threat, saying he never even discussed with Richard Lapointe the issue of custody of his son.
And Hartford Superior Court Judge David M. Barry made clear in refusing to throw Lapointe's confessions out of court that he believed Morrissey's testimony rather than Lapointe's.
A jury subsequently convicted Lapointe, now 49, of the March 1987 rape and murder of Bernice Martin, and he was sentenced to live the rest of his days in prison without the possibility of release.
But an extensive Journal Inquirer review of hundreds of pages of evidence and court transcripts raises disturbing questions about the credibility of the police case.
The JI has found that in building their case, police deceived not only Lapointe and his wife but also themselves about key evidence.
If Morrissey's sworn testimony about the four hours he spent extracting Lapointe's detailed confession is not believable, much of the state's case crumbles.
Lapointe's interrogations by the police were not tape-recorded. Police testified that it wasn't their practice.
But Morrissey's July 4, 1989, interview with Lapointe's wife, Karen, was secretly tape-recorded by police. And in it Morrissey made statements strikingly similar to the ones he denied having made a few hours later to Richard Lapointe during the session that extracted his detailed confession.
Morrissey told Karen Lapointe:
"You know, we have to deal with an issue of custody of your son. If the state's attorney considers what you've done here as to be a hindering prosecution, you realize there's not going to be anybody here to take care of your son?"
Moreover, Morrissey asked Karen Lapointe whether a similar approach might work with her husband – and got an affirmative response:
Morrissey: Is he going to be that concerned about you and your son – to prevent . . . you from being separated from your son, and this whole thing to be dragged through the paper? Or would he really cooperate further, and tell us all the necessary details? Is he going to do that to protect you . . . ?
Karen Lapointe: I think he might – that we aren't dragged through.
But Morrissey wasn't satisfied with "might." He pressed Karen Lapointe as to whether she was sure, and she finally said: "I really do think he would."
    Credibility at heart of case
Morrissey's truthfulness is central for two reasons – first, because a confession obtained by threats may be false.
But even more important, Lapointe's confessions were crucial: The state had no physical evidence pinpointing him as the killer.
Signed during interrogations that lasted from about 3:50 p.m. to midnight on July 4, 1989, more than two years after the crime, Lapointe's confessions were the linchpin of the state's case.
By far the most detailed and incriminating of the confessions was the one Morrissey wrote out and Lapointe signed between 11:30 p.m. and midnight.
The two men had been alone in a room on the second floor of the Manchester police station throughout their four-hour conversation. Before Morrissey took over that night, Lapointe had signed two confessions written out by the lead investigator in the case, Detective Paul R. Lombardo. But both were highly equivocal.
The first, only two sentences long, has Lapointe describing Bernice Martin's death as an accident and saying, "My mind went blank." The second includes the statement, "If the evidence shows that I was there, and that I killed her, then I killed her; but I don't remember being there."
Neither of the first two confessions contains what police look for to tie down their case: information that only the killer would know about the crime.
But the statement Lapointe signed at the end of his interrogation by Morrissey indisputably includes details of evidence then not known to the public – such as a semen stain on Martin's bedspread and a description of the steak knife used to stab her.
If, as Morrissey testified, Richard Lapointe volunteered those and other details that only the killer could know, the chances are good that he killed Bernice Martin.
But Morrissey was also in a position to know those details. And Lapointe testified that Morrissey supplied many details to him, including the claim that he stabbed Martin with a knife from her kitchen.
Lapointe – who suffered brain injuries as a child as a result of a skull deformity and spent his working life in menial jobs – said his reasons for agreeing with Morrissey's claims included wanting to go to the bathroom, wanting to get out of the police station, and wanting to go home.
Interview based on lies
Whether Morrissey threatened Lapointe with the possibility of his wife's arrest is by no means the only question about Morrissey's credibility.
By a conservative count, based on his later testimony, Morrissey lied at least 30 times during his two-hour interview with Karen Lapointe.
One of the first things he told her after arriving at her home was that police were sure her husband was responsible "for what happened to Mrs. Martin." Morrissey went on to say that police had been able to identify the killer through physical evidence such as "DNA blood-typing and gene-type tracks."
In fact, the physical evidence concerning Richard Lapointe's blood characteristics and the killer's probable blood and semen at the scene indicate only that Lapointe was one of more than the 28 percent of the male population of the United States who could have committed the crime.
And at that point police certainly lacked enough other evidence to prove Richard Lapointe's guilt: They kept him at police headquarters another nine hours that day to try to gather it.
Telling lies during an interrogation is a common police technique that frequently has withstood court challenges. In testimony, Manchester police portrayed use of falsehoods as a strategic device to reduce a subject's inhibitions against telling the truth.
But Hartford psychologist John Nolte, coordinator of the Connecticut Network to Abolish the Death Penalty, has called the lies Morrissey told Karen Lapointe so outrageous as to raise questions about the detective's character.
What kind of man, Nolte asks in essence, would tell a woman – without knowing it to be true – that her husband had brutally raped and murdered her grandmother?
In a 1992 commentary on the case, Nolte concludes that Morrissey's tactics mark him as a person "without scruples and totally lacking in common decency and sensitivity to others' feelings."
When police defend the use of lies as an interrogation technique, the implicit assumption is that an officer who may lie during an interview will report the results of that interview with complete accuracy and fairness.
But that is not what happened after Morrissey interviewed Karen Lapointe.
Affidavit, wife's remarks at odds
After the interview, Morrissey testified, he told Detective Lombardo that Karen Lapointe had revealed that her husband took an unusual route in walking their dog on the night of the murder.
Lombardo in turn included it in the affidavit that convinced a judge to approve Lapointe's arrest. The detective wrote that Karen Lapointe said her husband had walked along Union Street "toward North Main Street, where Bernice Martin's apartment was. Karen Lapointe confided in Detective Morrissey that, at the time, she thought it odd on the route that Richard had taken."
But the interview transcript shows that Karen Lapointe in fact "confided" the exact opposite:
Morrissey: Was it unusual that he should be walking up that way?
Karen Lapointe: No.
The statement that Morrissey wrote out and Karen Lapointe signed says: "He went out the front door, and I watched him walk up Union Street past Wood Lane towards North Main Street. When he usually walked the dog, he would turn down Wood Lane then onto North Street, to Golway, then back up Union Street to our house."
That statement seems to suggest Richard Lapointe's route on March 8, 1987, wasn't his usual one. But the written statement bears little resemblance to what Karen Lapointe said on tape, where she described several routes her husband took walking the dog.
As for the "usual" route the statement described, what Karen Lapointe really said on the tape was that the route was the usual way her family walked to Bernice Martin's apartment at Mayfair Gardens.
On the day of the murder, Karen Lapointe said, she saw her husband walk the dog along Union Street, past Wood Lane, which is a small side street, and on toward North Main Street. "When we went to my grandmother's, we never went that way," she said.
So while Judge Raymond R. Norko, who approved Richard Lapointe's arrest, was led to believe that his wife had said something incriminating, she had told Morrissey that her husband had walked the dog in a direction indicating he was not headed toward Martin's apartment – and that there was nothing unusual about his route.
    How 'voluntary' was confession?
Though Morrissey testified at Richard Lapointe's trial that his late-night confession was not a product of suggestive questioning, only hours earlier the detective had been asking Karen Lapointe leading questions.
Again and again during the taped two-hour interview with her, Morrissey pressed the theory that Richard Lapointe had left their house after dinner on March 8, 1987, to bring food to Bernice Martin.
Morrissey invited Karen Lapointe to speculate on how her husband would have wrapped such a package if he took it to her grandmother that night. And, despite her consistent denials during the interview that any such thing had happened, Morrissey asked her about it one final time before reading her the written statement and having her sign it.
Cross-examined about why he hadn't used the same techniques in interviewing Richard Lapointe, Morrissey testified that such techniques "could be considered coercive" – and thus inadmissible in court.
"Well, who would know?" asked Assistant Public Defender Christopher Cosgrove, Lapointe's lawyer.
"I would know," Morrissey replied. "The defendant would know."
But Richard Lapointe did testify that Morrissey used coercion, such as threats against his family.
So in the absence of a tape recording, the sole basis for concluding that Morrissey didn't use such techniques is the detective's own testimony, which jurors weighed against the testimony of a man who had signed his name to statements admitting a horrible crime.
As for the taping of Karen Lapointe's interview, public knowledge of it was virtually an accident – but one that underscores credibility questions.
At first the tapes weren't made available to Lapointe's lawyers, even though by law the state must give the defense any evidence suggesting that the defendant may be innocent.
    Why was tape withheld?
The tapes came to light only when police Officer Wayne Rautenberg went to the Manchester Police Department's evidence room for another tape during the pretrial hearing on Lapointe's motion to suppress his confessions.
Rautenberg was given an envelope containing four tapes, including the two of Morrissey's interview with Karen Lapointe. Rautenberg turned all four over to prosecutors, who thereupon disclosed the Lapointe interview tapes to the defense.
Under oath Morrissey denied having known of the tapes before Rautenberg stumbled on them. But he acknowledged having worn a hidden microphone and radio transmitter — known as a "wire" – to Karen Lapointe's home on July 4.
He explained that a supervisor directed him to do so, in part to have a witness – his brother, Detective Joseph Morrissey, who was monitoring the conversation in a car outside – in case there were allegations of misconduct during his meeting alone with a woman.
Michael Morrissey testified that his brother never told him that he had taped the interview, and Joseph Morrissey testified that he never told prosecutors about the tapes because he forgot that he had made them.
But, for a man who didn't know he was being recorded, Michael Morrissey said an odd thing at the beginning of the first tape, apparently before the door of the Lapointe home was opened to him: "75 Union, July 4th, Karen Lapointe interview."
Those words had the effect of labeling the tape. But Morrissey testified that he spoke them for a different purpose: "I believe Joe Morrissey had asked me to recite something on the way out of the vehicle, approaching the house, so he could adjust whatever he had to adjust on the instrument," Michael Morrissey said.
Michael Morrissey acknowledged that his written report on the interview included no reference to his wearing the microphone. And Joseph Morrissey testified that he wrote no report about having taped the interview.
But Capt. Joseph Brooks, head of the Manchester police detective division at the time, testified that he would have expected a report if an officer had been wired for an interview and a tape made.
Brooks said secret monitoring of conversations wasn't the police department's normal practice except in drug cases. He said he learned about the tape of the Karen Lapointe interview only when newspapers reported it.
Michael Morrissey's initial testimony, given before defense lawyers knew of the tapes, misstates where Joseph Morrissey was during the Karen Lapointe interview:
Public Defender Cosgrove: And when you were at the Lapointe household, did you speak to anybody at headquarters on the telephone?
Michael Morrissey: Yes, I did.
Cosgrove: Who was that, sir?
Michael Morrissey: That was Detective Joe Morrissey.
Joseph Morrissey said in testimony a few days later that he made the call from a cellular telephone in his car, not from headquarters.
The correct answer for Michael Morrissey to give to the question about having gotten a call from headquarters would have been "no" or, better yet, "no," followed by an explanation that he'd been called by his brother from the car outside.
But, of course, that might have led to further questions about what his brother was doing in the car outside the Lapointe home.
And that in turn could have led to the revelation that Michael Morrissey was wearing a wire used to make a tape recording that would disclose his interrogation methods.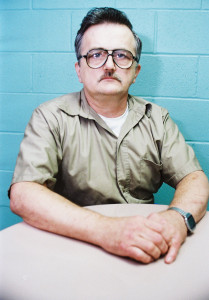 Jim Michaud / Journal Inquirer
Richard A. Lapointe at MacDougall Correctional Institution in Suffield.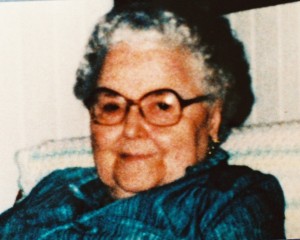 Jim Michaud / Journal Inquirer
Murder victim Bernice Martin, as shown in trial evidence.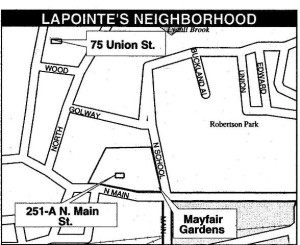 DeLorme Mapping, Freeport, Maine
————————————
This is Part 2 of the Journal Inquirer series "Tainted Justice," published on Tuesday, January 10, 1995.
Tape contradicts police testimony
By ALEX WOOD
Journal Inquirer Staff Writer
Manchester police Detective Michael Morrissey testified in great detail during a pretrial hearing on Jan. 2 and 3, 1992, about his crucial interview with Richard Lapointe nearly 2-1/2 years before, on July 4, 1989, at Manchester police headquarters.
Based on Morrissey's testimony, it is hard to escape the conclusion that Lapointe confessed freely to killing his wife's grandmother, Bernice Martin, and that he indeed killed her.
But there are reasons to question Morrissey's account of that interview at police headquarters, which he said wasn't tape recorded.
Morrissey also testified during the pretrial hearing in Lapointe's murder case about details of his July 4, 1989, interview with Lapointe's then-wife, Karen, at her home.
But a few days after that testimony, a secretly-made tape recording of Morrissey's interview with Karen Lapointe, belatedly disclosed to lawyers in the case, revealed that Morrissey's earlier testimony had been inaccurate on at least six points.
The detective's procedures for remembering the two interviews were identical. For each he wrote a statement during the interview for the subject to sign. Then, from memory, he wrote a single report about both interviews.
Morrissey said he took no notes during either interview and didn't know when he testified Jan. 2 and 3 that Karen Lapointe's interview had been taped.
Whether Morrissey's misstatements were mere errors or something more sinister almost doesn't matter – at least as far as the guilt or innocence of Richard Lapointe is concerned.
What matters is that the accurate information never would have been revealed if the court had relied only on Morrissey.
The following are points on which the tape contradicts Morrissey's January 1992 testimony about the interview with Karen Lapointe:
    Misstatement No. 1
Morrissey's testimony: Asked whether anyone else was in the house, Morrissey said Karen Lapointe "had called to somebody upstairs," but he never saw the person and didn't know who it was.
The truth: Richard and Karen Lapointe's 10-year-old son, Sean, greeted Morrissey at the door, and Karen addressed Sean by name within range of the hidden microphone Morrissey was wearing.
Later, while Morrissey was raising the possibility that Karen Lapointe could be separated from her son if she was charged with hindering prosecution, the detective noted, "He's sitting right upstairs." Morrissey also referred to Sean by name during the interview and put his name in the statement he wrote for Karen Lapointe to sign.
    Misstatement No. 2
Morrissey's testimony: Asked how many telephone conversations he'd had while at Karen Lapointe's home, Morrissey replied, "Just the one."
The truth: There were two.
    Misstatement No. 3
Morrissey's testimony: Asked what his brother, Detective Joseph Morrissey, had told him during the telephone call about admissions by Richard Lapointe during an interview at the police station simultaneous with the interview with Karen Lapointe, Morrissey said: "I don't recall specifically. . . . The gist of the conversation was that he had admitted that he was taking responsibility for the murder. We didn't get into any details. It . . . wouldn't have been a proper scenario for him to be providing details to me."
The truth: Shortly after getting the second phone call from his brother, Morrissey betrayed knowledge of the details of Richard Lapointe's first confession.
"Your husband said that it was an accident," he told Karen Lapointe – precisely what Richard Lapointe's first confession says.
The first confession also includes the statement, "My mind went blank," and immediately after getting the second call, Morrissey launched into a series of questions about any memory problems Richard Lapointe might have and about his drinking habits.
Among the questions was, "Does he ever black out or anything?"
    Misstatement No. 4
Morrissey's testimony: Asked if he had told Karen Lapointe that police had any evidence to support their belief that her husband had killed her grandmother, Morrissey said, "I did not enumerate any specific evidence. I said we had reason to believe that."
The truth: Shortly after telling Karen Lapointe that police were sure her husband was responsible for the murder, Morrissey said: "You're aware of the DNA, the new forms of identification through DNA blood typing and gene-type tracks? . . . Through most of that, we were able to identify the person responsible."
This was a lie. There was no such definitive evidence. But Morrissey told Karen Lapointe there was.
Morrissey also told Karen Lapointe that police had another type of evidence – her husband's confession. When he left the police station, Morrissey said, he understood that Richard Lapointe "was starting to give up the whole incident. And so it looks like . . . the issue is over."
This was another lie. Morrissey conceded in subsequent testimony that he had no information on what Richard Lapointe was saying at that point.
    Misstatement No. 5
Morrissey's testimony: Asked whether Karen Lapointe showed any surprise at his statement that Manchester police believed that her husband was the killer, Morrissey said, "No, she showed no surprise at all."
The truth: Shortly after making the accusation, Morrissey said, "I have the feeling that you've had suspicions."
"No," Karen Lapointe replied.
"No? You had never thought that that could have possibly happened?" Morrissey continued.
"No," Karen Lapointe said again.
But even after the tape became public, Morrissey insisted: "Her facial expressions and her body language was . . . It was clear to me that she was not surprised."
    Misstatement No. 6
Morrissey's testimony: Referring to Karen Lapointe, he said, "I believe she had brought up some other incidents . . . some Peeping-Tom incidents, or something, that Richard was involved in."
The truth: Morrissey, not Karen Lapointe, brought that subject up – and in an extremely accusatory way: "Are you aware that he's been seen in the back yards looking into people's windows, and that type of thing?"
Karen Lapointe paused, then responded "hmm mm" to that and a similar question.
"How come you didn't tell me that?" Morrissey demanded.
"I heard it one time," Karen Lapointe replied. "But then he said it stopped."
The question of who initiated topics is of considerable importance in Morrissey's subsequent, unrecorded four-hour interrogation of Richard Lapointe, ending in Lapointe's confession to killing Bernice Martin.
For the murder conviction rests largely on the detective's sworn insistence that he did not feed information to the suspect – that Lapointe confessed voluntarily, giving details that only the killer could know.
●
In addition, on several pointes the tape doesn't support Morrissey's testimony – but also doesn't disprove it.
The most significant of these is Morrissey's claim that Karen Lapointe told him that her husband left their house at 5 p.m. on the day of the murder to walk the dog and was gone for about 20 minutes.
Instead, Karen Lapointe says on the tape that Richard took the dog for a 20-minute walk but was home in time for dinner at 5 p.m.
That difference was important to Richard Lapointe's alibi: Police had a report indicating that Bernice Martin had been seen alive between 5 and 5:30 p.m.
But Morrissey stuck to his story even after the tape was disclosed. He said Karen Lapointe initially said her husband left the house between 4 and 5 p.m. but later settled on a 5 p.m. departure time.
Because the tape has gaps and inaudible sections, that could be true. Still, the time frame to which Morrissey testified is not heard on the tape, while one more favorable to Richard Lapointe is.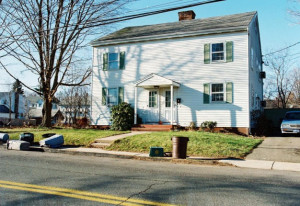 Jeff Kiely / Journal Inquirer
Richard and Karen Lapointe's former home at 75 Union St., Manchester.
————————————
The following sidebar was published on Day 2 of the Journal Inquirer's series "Tainted Justice," Tuesday, January 10, 1995.
Recording reveals detective's technique
By ALEX WOOD
Journal Inquirer Staff Writer
The statement that Manchester police Detective Michael Morrissey wrote and Karen Lapointe signed on July 4, 1989, contains things bearing no resemblance to what she is recorded as saying in their secretly taped two-hour interview.
There are three apparent gaps during tape-changing and there are some inaudible comments, so not everything Karen Lapointe said has been preserved.
But a lot would have to have been packed into the gaps for Morrissey's statement about the interview to reflect Karen Lapointe's words.
Hartford psychologist John Nolte, coordinator of the Connecticut Network to Abolish the Death Penalty, noted in a 1992 commentary that at least four sentences in the 12-sentence written statement resemble nothing Karen Lapointe is on record on the tape as saying.
Three of the sentences are relatively innocuous. But one is not.
The telling statement says that because Karen Lapointe's grandmother, Bernice Martin, was killed on March 8, 1987, "I recall specifically what happened that day."
The tape lacks such a statement, nor does it show that Morrissey asked Lapointe about how well she remembered the traumatic events of that day two years before.
Morrissey read the statement to Karen Lapointe, and he asked her to read it to herself before signing it. But she was under duress, since Morrissey had threatened her with arrest and at least temporary separation from her son.
In light of what the Karen Lapointe tape indicates about Morrissey's statement-taking procedures, Nolte asks: "Why shouldn't we believe Richard Lapointe when he insists that Morrissey was responsible for the statement that he signed in which he confessed to the murder and rape of Mrs. Martin?"
Morrissey testified that he made no tape recording of his interrogation of Richard Lapointe, so it is much harder to tell what happened then than during the detective's interview with Karen Lapointe.
The detective first testified at an August 1989 "probable-cause hearing," less than two months after taking Richard Lapointe's confession, about how he put the confession in writing.
The procedure Morrissey described was similar to the method the tape shows he used for writing Karen Lapointe's statement. Although his description on the witness stand suggests that he took considerably more care with Richard Lapointe's statement than with Karen's, he didn't claim to have been taking dictation:
"After . . . it was fairly clear to me – the sequence of events – I transcribed what he had told me and . . . as he went through the incident chronologically, the various things that were unclear to me as I wrote them, I would go back and ask him to clarify and . . . if the particular wording that I used was accurate. And then I would record it. And we went through the whole statement. . . . I read the statement to him, and then I asked him to read the statement."
By Jan. 2, 1992, when Morrissey next testified on the subject at a pretrial hearing on a motion to throw out the confessions, his version of what he had done had changed significantly:
"Each idea, I went through it with him verbally to make sure that I had understood what he had related to me. And I jotted that down. Each segment and each idea, I went back with him to make sure that it was clear to me what he had told me. And we went through the statement like that."
No longer was Morrissey transcribing a sequence of events that was "fairly clear" to him from earlier conversation, asking only about "the various things that were unclear to me." Now he was checking each idea verbally before writing it down.
Later that day, under cross-examination, Morrissey added two subtle modifications.
"He would tell me what he had said, and I would jot it down," the detective said, adding that he would repeat the information to Lapointe, enabling him to make corrections, before putting pen to paper.
Now Morrissey wasn't just reviewing the statement orally to ensure that he understood what Lapointe had said, as he testified on direct examination. In this version Lapointe was repeating what he had said before Morrissey double-checked it and wrote it down.
That was the version Morrissey testified to under direct examination by Assistant State's Attorney Rosita M. Creamer at Lapointe's trial:
Creamer: Did you write it from memory of everything that he had said before, or did you use some other method?
Morrissey: No. . . . We went through it dot by dot. He gave me little synopses of events, and then I would repeat to him what he had told me. And then . . . after I understood it, I would write that down.
In all the court appearances, Morrissey was talking about the same event. And he was under oath each time.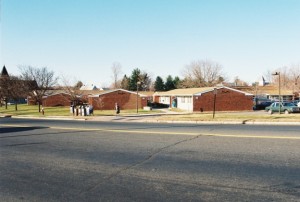 Jeff Kiely / Journal Inquirer
The Mayfair Gardens elderly housing complex, where Bernice Martin lived, as seen from North Main Street.
————————————
The following is Part 3 of the Journal Inquirer series "Tainted Justice," published Wednesday, January 11, 1995.
Interrogator's accounts at odds with those of others
By ALEX WOOD
Journal Inquirer Staff Writer
Maybe it's no surprise that Richard Lapointe repudiated two statements he signed for Manchester police Detective Paul R. Lombardo on July 4, 1989, confessing to the killing of his wife's 88-year-old grandmother, Bernice Martin.
People who have confessed to heinous crimes frequently have second thoughts when they come face-to-face with the consequences. In Lapointe's case those consequences could have included the death penalty – and they did include a sentence of life imprisonment without possibility of release. His conviction is on appeal.
But Lapointe wasn't the only witness whose account of events was sharply at odds with Detective Lombardo's during the long trial in Hartford Superior Court in 1992 as well as at a long pretrial hearing on a motion to suppress Lapointe's confessions.
Those who contradicted Lombardo's testimony or written statements on important points included one of Bernice Martin's neighbors in the Mayfair Gardens housing complex for the elderly on North Main Street; one of Lombardo's fellow detectives, who also obtained a confession from Lapointe; and Martin's daughter.
Lombardo wrote the affidavit setting forth the police case for Lapointe's arrest on July 5, 1989, the day after he and Detective Michael Morrissey had gotten Lapointe's signature on three confessions.
The affidavit quotes Lapointe's then-wife, Karen, so far out of context as to make it appear that she gave police incriminating information about her husband when she actually gave him an alibi.
Lombardo's credibility was of considerable importance to the state's case against Richard Lapointe.
He was the lead detective in the investigation that led to Lapointe's arrest; he interrogated Lapointe for four hours on July 4, 1989; and wrote the first two confessions Lapointe signed.
On the witness stand Lombardo quoted Lapointe as saying incriminating things that don't appear in the written confessions. And Lombardo testified in graphic detail about Lapointe's tone of voice and "body language" – for instance, how Lapointe's initial denials of the killing were given in a quiet voice and how he slumped down in his seat when he first confessed.
Lombardo and Lapointe also gave sharply different accounts of significant events during the interrogation.
For example, Lapointe testified that when he asked for a lawyer, Lombardo replied, "Later. We'll get you a lawyer later." But Lombardo testified that he offered Lapointe the use of a telephone to call his wife or a lawyer.
Manchester police had tape-recording and videotaping equipment, but Lombardo testified that he decided not to record the interrogation because it was not his normal practice. Lombardo thus chose to make his credibility an issue of central importance.
Still, Lombardo appears to have proceeded with some care. Both confessions he wrote out for Lapointe to sign include significant vacillation. The first describes Bernice Martin's death as an accident, while the second has Lapointe saying "I don't remember being there" when Martin was killed.
But there are serious questions about Lombardo's credibility:
    The phantom visit
Lombardo's report of his June 16, 1989, interview with Martin's neighbor at Mayfair Gardens, Jeannette King, makes it sound like the diminutive, elderly woman should have been a key prosecution witness at Lapointe's trial.
According to Lombardo's report, King "was adamant over the fact that she had observed Richard Lapointe walking his dog on North Main Street at 1900 hours" –
7 p.m. – on March 8, 1987, the day Martin was murdered in her apartment.
Further, according to Lombardo's report, King said Lapointe stopped at her door to say hello and told her "he was going to stop by and see `Nana'" – Bernice Martin.
This was highly incriminating stuff, seemingly a major break in the more than 2-year-old case, in which Lapointe only recently had become an object of special police attention.
Lombardo's report suggests that, in King, police had a witness who knew Lapointe and could put him near Martin's apartment at a time that made it very possible for him to have committed the murder.
Moreover, Lombardo had Lapointe telling King that he was on his way to visit Martin.
But when King testified in court – as a defense witness – she said she had told Lombardo a very different story.
For one thing, King denied ever seeing Richard Lapointe with a dog that night. Two of Lapointe's confessions said he had killed Bernice Martin when he stopped by her apartment while walking his dog.
King also denied telling Lombardo that Lapointe had said he was on the way to see "Nana."
King insisted that she had seen Lapointe shortly after 7 that night – but under quite different circumstances that substantially matched his own account.
On the night of the murder, Lapointe signed a police statement saying he had gone to Martin's apartment to check on her after getting a call from Nathalie Howard, Martin's daughter, who was concerned that she couldn't reach her mother on the telephone.
In the statement Lapointe said he saw that the apartment was dark, that he got no answer when he knocked on both front and back doors, and that he noticed that one of the doors was "very warm."
He said he then went to King's apartment and used her telephone to call his wife, Karen, and Howard. Richard Lapointe said Karen Lapointe suggested that her grandmother might be injured, so he offered to go back to her apartment and try to locate her again.
When he did so, he said, the apartment door was hot and he saw smoke coming from the eaves, so he returned to King's apartment and telephoned the 911 emergency number. Police logged the call at 8:27 p.m.
When King testified at Lapointe's trial and at a pretrial hearing, she described only the two visits Lapointe told of, not the courtesy call mentioned in Lombardo's report. The two visits were no more than minutes apart, she said.
Because the 911 dispatch time was corroborated by a number of witnesses, it seems that both times King saw Lapointe were after 8 p.m., not initially at 7, and that she misspoke in recalling events more than two years earlier.
Her testimony is inconsistent in other ways. For instance, she reported initially having seen Lapointe at dusk; but television weatherman Charlie Bagley testified at the trial that dusk ended that day at 6:19 p.m., not at 7.
Kendall Keyes, a police officer who interviewed King on the night of the murder, testified at the pretrial hearing that she had told him that Lapointe had visited her apartment at about 8 p.m. and that she had mentioned no other time.
There is no indication in Lombardo's report that he ever asked King the simple question that could have avoided all the confusion: "How long was it from the first time you saw Richard Lapointe that night until he called 911 from your telephone?"
Lombardo declined to be interviewed for this story. He suggested that the Journal Inquirer review his reports instead.
Even against Jeannette King's denial, Lombardo continued to insist in testimony that she had told him in June 1989 of seeing Lapointe walking the dog on the day of the murder. At the same time he asserted that it wasn't significant whether the dog was present.
   The undated statement
Police files contain a single signed but undated statement from King that is consistent with her testimony but inconsistent with Lombardo's account of his June 1989 interview with her. The statement is in Lombardo's distinctive hand printing, but he never notarized it.
The statement was belatedly disclosed to Lapointe's lawyers only after King testified at the 1992 pretrial hearing on the defendant's motion to suppress the confessions. It was the last of three pieces of evidence that came to light under unusual circumstances during that hearing. (The other two were a statement that Detective Michael Morrissey took from Karen Lapointe and a tape recording of their interview.)
Lombardo testified at the hearing that he took King's statement some time after Lapointe's arrest – after learning that King had spoken to an investigator from the public defender's office – but wrote no report about the interview. By contrast, he testified that he didn't take a statement when he first talked to King in June 1989 but did write a report about what she had told him then.
Police often use a two-step process in reporting major interviews. They have the interview subject sign and swear to a written statement, and then the detective writes and signs a separate report that can include additional information on the circumstances of the interview and its significance.
By taking a sworn statement, police give the witness an incentive not to change his story later: Making a false statement to an investigator is a crime punishable by as much as a year in prison.
At the pretrial hearing Assistant Public Defender Patrick J. Culligan questioned Lombardo skeptically about the detective's claim that he took King's statement during a second interview:
Culligan: And you're sure you didn't take this statement from her the first time you visited her?
Lombardo: Yes.
But Culligan continued to press the idea that Lombardo might have taken the statement in June 1989, before he put contradictory details in his sworn affidavit seeking Lapointe's arrest and in his report concerning King.
At Lapointe's trial Culligan asked Lombardo why he didn't take a statement from King in June 1989.
Lombardo said he didn't remember.
But Lombardo did remember that he considered King's information significant, like that of another witness he had interviewed in June 1989. And Lombardo acknowledged taking a statement from the other witness then.
King made several apparent errors in her own testimony about her contacts with police. But she insisted that she never spoke to Lombardo after talking with the investigator from the public defender's office.
In effect, she denied that the meeting at which Lombardo said she signed the statement ever took place.
    A story not told?
In his affidavit seeking a judge's approval to arrest Lapointe, Lombardo acknowledged that one of Richard Lapointe's remarks to Detective Michael Morrissey, who obtained Lapointe's third and most detailed confession, was inconsistent with the physical evidence. Lombardo wrote:
"Richard Lapointe was inconsistent when talking about the ligatures that were tied around Bernice Martin's neck and arms. Richard Lapointe first said that he had bound Bernice Martin with rope that he had brought to the apartment from his home. The evidence showed that Bernice Martin had been bound with articles of clothing from her closet. Richard Lapointe did, however, recant his statement about the rope later in the interview."
But Morrissey testified that Lapointe never said anything to him about tying Bernice Martin and never mentioned rope or ligatures. Morrissey also said he never told Lombardo that Lapointe said such things.
Morrissey testified that the only indication Lapointe ever gave him about how Bernice Martin was strangled was to gesture as if grabbing someone's neck with two hands – clearly not the way the evidence indicates it was done.
Michael T. Tomkunas, an 8th Utilities District firefighter who helped remove Martin's body from her burning apartment, testified that he found pieces of fabric bound around her neck so tightly that it was difficult to get a finger under them.
But Dr. Arkady Katsnelson, an associate state medical examiner, testified that Martin appeared to have been strangled with a blunt object, such as a forearm – not with hands or even the tied fabric.
    Victim's daughter contradicted
In one of his reports on the investigation, Lombardo said Howard, Martin's daughter, told him she last saw her mother alive on Saturday, March 7, 1987, the day before the murder.
But Howard testified as a prosecution witness that she last saw her mother alive at about 5:45 p.m. on March 8, the day of her death. Howard said she was passing Mayfair Gardens in a car on North Main Street and saw Martin putting out trash.
Howard's account was half of Richard Lapointe's alibi. His wife, Karen, provided the other half, telling police that he was home before 5:30 p.m. that day.
Asked on the witness stand if she had told Lombardo of seeing her mother at 5:45 p.m. that Sunday, Howard replied, "Why, I would suppose so. I've talked with so many of them, and I talked with them so many times that I would have mentioned it, yes."
Still, under cross-examination by Culligan, Lombardo insisted that his report of what Howard had told him was accurate.
In his closing argument to Lapointe's jury, the other defense lawyer, Christopher M. Cosgrove, suggested that Lombardo had an ulterior motive for insisting that Howard had told him she had last seen her mother alive on Saturday:
"Now why would he say that?" Cosgrove asked. "Well, he'd say it because it makes their case a little stronger" by eliminating a time reference favorable to Lapointe's alibi.
    Alibi ignored
Lombardo's July 5, 1989, arrest affidavit ignores the issue of time at another critical point.
It cites as new and incriminating information Karen Lapointe's statement to Detective Morrissey the day before that her husband had left their condominium, at 75 Union St., to walk the dog on the afternoon of the murder. But it omits mention of what she said about the duration – 20 minutes – or time frame of the walk.
Lombardo reported during the investigation that he had walked at a normal pace from the Lapointes' condominium to Bernice Martin's former apartment at 251-A N. Main St. while being timed with a stopwatch. He said the walk – apparently without a dog – took him 4 minutes and 41 seconds.
Thus, if Karen Lapointe's recollection of the time Richard was gone was accurate, Lapointe would have spent at least 9 minutes just walking from his home to Martin's and back and would have had only 11 minutes in which to rape her, stab her 11 times, strangle her, tie her up with pieces of clothing, and set three fires in her apartment.
Moreover, if Richard Lapointe's most detailed confession is accurate, he didn't launch right into the crimes on arriving. It says he and Martin had coffee and tea together and that he went to the bathroom before the violence began.
Experts consulted by Manchester police during the investigation said the crime was no 11-minute blitzkrieg. "The offender spent a significant amount of time within the household after having achieved control of the victim," a 1988 FBI crime analysis says.
But, according to the part of Morrissey's report that Lombardo ignores, Karen Lapointe said her husband left with the dog at about 5 p.m. and was gone about 20 minutes – in effect that he was home by about 5:20.
In testimony both Lombardo and Morrissey acknowledged knowing of reports of Martin's being seen alive as late as 5:30 p.m. Only a day after the murder, Earle Howard, Nathalie Howard's husband, had told police that he and his wife saw Martin taking out the trash between 5 and 5:30 p.m.
A police report says Earle Howard recalled "putting on the Channel 3 news shortly after arriving home" – a program that television listings show was scheduled to being at 6 p.m. that Sunday. The Howards live on South Adams Street, no more than a 10-minute drive from Mayfair Gardens on a busy day.
Those factors tend to support Nathalie Howard's 5:45 p.m. time estimate at the trial – or at least the 5:30 p.m. end of the range that police reported her husband gave the day after the event.
So evidence available to Lombardo when he wrote the arrest affidavit suggests Richard Lapointe had a strong time-frame alibi.
When pressed about this on the witness stand, Morrissey said he didn't consider the time statements an alibi for Lapointe. Citing his police experience, he stressed that people are often wrong about time estimates.
But because Lombardo's affidavit simply omitted the timing information, it didn't give Judge Raymond R. Norko the opportunity to weigh such issues before signing an arrest warrant.
Of course an arrest warrant reflects only an accusation. If it contains errors or omissions, the relevant facts are supposed to come out at the trial. But that doesn't always happen, and an official accusation carries enormous power.
In Richard Lapointe's case his wife divorced him after his arrest, and his lawyers decided against calling her as a trial witness. They were able to present her alibi information only by cross-examining skeptical police witnesses.
————————————
The Journal Inquirer published the following sidebar with Part 3 of its series "Tainted Justice," on Wednesday, January 11, 1995.
What did eavesdroppers hear, and how did they hear it?
By ALEX WOOD
Journal Inquirer Staff Writer
Some of the strangest testimony during Richard Lapointe's murder trial was about what police did or didn't hear while trying to listen through doors.
Manchester police Detective Paul R. Lombardo testified on cross-examination that he didn't tell any other member of the police department what was happening during his closed-door interrogation of Lapointe from about 3:50 to 8 p.m. on July 4, 1989.
But if Lombardo didn't tell anyone what was going on during the four hours he was alone with Lapointe, how did Detective Michael Morrissey learn details of the first confession during his simultaneous interview with Karen Lapointe, then Richard's wife?
During that interview, which was secretly tape-recorded, Morrissey got two telephone calls from his brother, Detective Joseph Morrissey, who was sitting in a car outside the Lapointe home.
Joseph Morrissey testified that he got a call from someone at headquarters – he couldn't remember who – indicating that Richard Lapointe was starting to confess to the murder of Bernice Martin, Karen Lapointe's grandmother. Joseph Morrissey said he passed that information on to his brother by telephone.
Immediately afterward, Michael Morrissey told Karen Lapointe things that indicated he knew what Lapointe had said, including the claim that Martin's death was an accident.
At the trial, Assistant State's Attorney Dennis O'Connor in effect sought an explanation for how information about the confession might have found its way to Morrissey if Lombardo didn't tell anyone what had happened.
"I learned that other officers had been listening outside the door out of curiosity," Lombardo told him.
When defense lawyer Patrick J. Culligan pressed Lombardo for details, he identified the listening officers as Lt. Orville L. Cleveland Jr. and Sgt. Spencer Frazee.
Lombardo said he didn't remember who had told him about their eavesdropping and dismissed it as unimportant. When asked, he said neither he nor Lapointe had raised their voices.
It was not the only time that the subject of eavesdropping came up.
During a pretrial hearing on Lapointe's motion to suppress his confessions, Joseph Morrissey testified that he had tried to listen later that same evening when his brother was questioning Lapointe in the same interview room.
This time, the door was partly open, he testified, adding that he wasn't listening merely out of idle curiosity: "I was hoping to be able to corroborate anything that was said in the interview room."
But, Joseph Morrissey said, he listened for only a few minutes "because it quickly became apparent that I wasn't going to be . . . successful in overhearing anything in the room."
The record doesn't reveal who called Joseph Morrissey with information about Lapointe's first confession. Neither Cleveland nor Frazee were asked about it.
But if Lombardo himself was not, as he swore, the source, it seems that someone could hear Lapointe's first confession through a closed door, even though Joseph Morrissey was unable to hear conversation through an open door.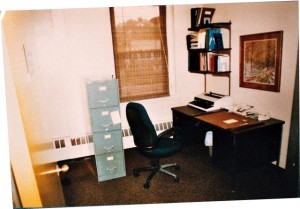 Jim Michaud / Journal Inquirer
The interrogation room used for Richard Lapointe.
————————————
The following is Part 4 of the Journal Inquirer series "Tainted Justice," published on Thursday, January 12, 1995.
Claims of 'secret details' not so solid
By ALEX WOOD
Journal Inquirer Staff Writer
Manchester police Detective Paul R. Lombardo testified that Richard Lapointe provided information only the killer would know when he confessed to the March 1987 murder of his wife's 88-year-old grandmother.
Lapointe gave statements with information "only the person who killed Bernice Martin would know, and statements that had not been released. And reviewing those statements and seeing that he had detailed information about the crime, we knew that this was not something that he had made up," Lombardo insisted.
But while Lombardo gave central importance to hidden details as proof of the validity of Lapointe's confessions, the detective's handling of that issue in his sworn affidavit seeking Lapointe's arrest raises serious questions of thoroughness and candor.
One section of the affidavit, dealing with the July 4, 1989, interrogation at which Detective Michael Morrissey obtained Lapointe's key confession, states:
"During this interview, Richard Lapointe gave a sworn statement in which he told of specific information about this crime. This information has not been released to the press and outside of this police department would only be known to Bernice Martin's killer.
"That, the points where Richard Lapointe was specific are as follows: . . ."
One would conclude that the seven points that follow were from Lapointe's sworn statement to Morrissey and that all constituted hidden information.
But only two of the seven – regarding a semen stain on Martin's bedspread and the knife with which she was stabbed – meet both criteria.
And police knew about those two things and could have prompted Lapointe about them. Since the many hours of Lapointe's interrogation at the police station were not recorded, there is no way to know.
But the discrepancies between Lombardo's affidavit and the statement Morrissey had Lapointe sign are startling.
The fifth point in Lombardo's affidavit reads: "Richard Lapointe stated that when he attacked Bernice Martin, she was standing at her bureau, brushing her hair. Photographic evidence shows a brush on the bureau."
The statement and the physical evidence appear to match nicely. But the statement Lapointe signed for Morrissey says Martin was "combing," not brushing, her hair.
In testimony about Lapointe's remarks during the interrogation, Morrissey too used the word "brushing."
But while Lombardo devoted a paragraph of his affidavit to Lapointe's inconsistencies, nowhere does he acknowledge inconsistency on this point.
Moreover, the photo cited wouldn't prove that Martin was attacked while either brushing or combing her hair, though it might suggest that she made a habit of brushing her hair at her bureau.
If that were so, it's something that Lapointe, who had visited Martin with his family many times, including the day of her death, easily could have known without having killed her.
Confessions omit fires
Lombardo's sixth point says Lapointe admitted starting "a fire on the couch in two different locations, with Bernice Martin on the couch. Evidence developed in the investigation shows that Bernice Martin was on the couch when the fire was started and that the fire was in fact started in two different locations."
But none of Lapointe's three written confessions contains any reference to having set fire to anything.
Morrissey testified that Lapointe told him he set two fires on the couch, but the detective said he didn't recall what Lapointe said about where Martin was at the time.
Firefighters from Manchester's 8th Utilities District testified that they found Martin's burned body on the floor, not the couch.
And Dr. Arkady Katsnelson, an associate state medical examiner, testified: "I did not find any evidence of direct contact of the open flame with the victim. All these burns could be sustained from hot temperature, not necessarily directly from an open flame."
It also isn't clear why Lombardo thought the couch had been ignited in two places. Stephen Igoe, then a state trooper assigned to the state fire marshal's office, testified that he believed the fire was set on the seat cushions, but he drew no conclusion about whether separate fires were set on each.
Lombardo's second point says Lapointe "admitted that he had gone over to Bernice Martin's apartment, walking his dog, which has been corroborated by Karen Lapointe and Jeannette King."
But King testified that she told Lombardo no such thing – that she never saw Richard Lapointe with his dog that day.
And this is not information that only the killer would know. There is no independent evidence establishing that the killer of Bernice Martin had a dog with him.
Bloodstain deemed visible
Lombardo's third point says Lapointe admitted stabbing Martin "in the abdomen. This information was never released by this department, and outside of the police the only one to have this information would be the actual killer."
But Lapointe, whose report of the fire led to the discovery of Martin's body, signed a police statement on the night of the murder saying that when the firefighters brought Martin out of her apartment, "There was a white sheet or something across her stomach with a red stain on it."
Prosecutors vigorously maintained during Lapointe's trial that he couldn't have seen the red stain at the scene and must have had another way of knowing about it.
"It was dark. He has had bad eyesight all his life. And yet he claims to have noticed an injury on Mrs. Martin that no one else did," Assistant State's Attorney Rosita M. Creamer told the jury in her final argument.
But it isn't true that Lapointe was the only one at the scene on the night of the murder who reported seeing blood on Martin.
Deputy Chief William A. Parker Jr. of the 8th District Fire Department, one of the firefighters who carried Martin from the apartment, told police he saw blood on her clothing "along the waistline."
Further, it wasn't dark for the whole time Martin's body was at the murder scene. Police Officer Donald Turner testified that while Martin was being treated on the lawn in front of her apartment, "The fire lights were there. It was light enough for you to see virtually anything."
Cup evidence inconclusive
Lombardo's final point says Lapointe described having coffee with Martin during the fatal visit and adds: "This information has been corroborated by photographic evidence which shows overturned coffee cups and pitcher."
For this evidence too another explanation is possible. The statement Lapointe signed the night of the murder said he, his wife, and Martin had tea together during their family visit earlier in the day. The cups the photo shows could have been left from that visit.
Like the brush on the bureau, the cups don't establish that Lapointe knew anything that only the killer could know.
And while Lombardo's affidavit contained sworn statements about what information police had released, he testified that prior to his own questioning of Lapointe on July 4, he hadn't tried to read all the newspaper articles published about the case in the preceding two years.
Lombardo made at least one highly misleading statement about what people knew when he wrote that "the information of Bernice Martin's sexual assault was not told to the family until one year after the murder."
Maybe not – unless they had read newspapers. For the Journal Inquirer reported as early as Sept. 21, 1987 – less than seven months after the killing – that Martin had been sexually assaulted.
And within days of the murder several newspapers had reported that police were exploring a possible connection between Martin's murder and a sexual assault in South Windsor.
"Manchester police have refused to confirm whether Martin was sexually assaulted by her killer," the JI reported in the fourth paragraph of a story about the South Windsor case that was published March 11, 1987, just three days after Martin's murder.
————————————
The following sidebar was published with Part 4 of the Journal Inquirer series "Tainted Justice," on Thursday, January 12, 1995.
Lapointe's testimony inconsistent, aimless
By ALEX WOOD
Journal Inquirer Staff Write
Police witnesses weren't the only ones whose testimony was fraught with baffling inconsistencies during the 1992 trial of Richard Lapointe for the 1987 murder of his wife's 88-year-old grandmother in Manchester.
Lapointe's own testimony at the trial and a pretrial hearing was so internally inconsistent and contrary to other evidence that it would be next to impossible to use it to construct a narrative of events surrounding his confessions.
But there was an aimless quality about Lapointe's inconsistencies.
He contradicted at least one of his own expert witnesses.
He denied having seen police displays of false evidence when admitting to seeing them could have weighed strongly in his favor.
And he contradicted one of his own past statements on a point corroborated by at least two other witnesses, when he had no discernible interest in doing so.
Lapointe's testimony even was contradicted on how many dogs he had owned while living on Union Street in Manchester, another fact that he had no discernible interest in misstating.
Dr. Kenneth M. Selig, a Glastonbury psychiatrist, concluded in a report he wrote after four interviews with Lapointe that the defendant was "an easily intimidated, slow-witted, highly submissive individual who is extremely vulnerable to the pressure tactics used on him by the police."
Selig buttressed this conclusion in part with what he said Lapointe had told him about the circumstances under which he had a vasectomy.
Selig's report, submitted to Superior Court Judge David M. Barry, said Lapointe told him he had the vasectomy at his wife's request after she had a difficult time with the birth of their son in 1979.
"Although he was opposed to it," Selig wrote, "and, as a Catholic, believed that having a vasectomy is a sin, he still went ahead and did it `because I loved her – I still love her. I would do anything for her.'"
But when Lapointe testified at the Hartford Superior Court hearing on the motion to suppress his confessions, he told a quite different story.
He described the decision to have the vasectomy as "mutual" and said no one forced him to have it.
He also agreed with a suggestion by Assistant State's Attorney John H. Malone that it was all right to have had a vasectomy when his wife's health was at stake. And he agreed again when Malone suggested that he never had told anyone that he thought having a vasectomy was a sin.
Saying those things, Lapointe undermined Selig's portrayal of him as a submissive, dependent person – a portrayal crucially important to his lawyers' efforts to convince the judge that police had coerced him psychologically into signing confessions.
Lapointe also presented Judge Barry with the choice of believing him or Selig, a witness favorable to the defense. Whichever way the judge resolved that issue, Lapointe stood to lose.
During both the hearing on the confessions and Lapointe's trial, his lawyers made much of the extensive displays of false evidence that police had prepared to impress Lapointe before interrogating him at headquarters.
Detective Paul R. Lombardo testified that Lapointe gave no indication that he had noticed most of the displays and that he stopped briefly and commented at only one – a picture of the murder victim, Bernice Martin.
If Lapointe had wanted to make up stories, he easily could have claimed to have seen other displays – such as a nearby poster falsely indicating that his DNA matched the murder suspect's.
Instead, in testifying Lapointe denied seeing any of the displays, including the picture of Martin.
That testimony vastly reduced the importance of the displays as an issue in the case. Barry wrote in ruling against suppressing the confessions: "The court will not presume that the defendant saw them, was intimidated by them, and then forgot about them."
Lapointe discovered the fire at Martin's apartment on March 8, 1987, after receiving a worried telephone call from Martin's daughter, Nathalie Howard of Manchester, who couldn't reach her on the phone.
Later that night, Lapointe signed a police statement saying the first thing he did when he got no answer at the doors of Martin's apartment was to go to a neighbor's apartment and make phone calls to his wife and Howard.
The neighbor, Jeannette King, testified at the hearing on the confessions that she saw Lapointe make those two calls and overheard Lapointe's end of both conversations. And Howard testified at Lapointe's trial that she got such a call from him.
But despite having heard both of them testify, Lapointe got on the stand at his trial and denied having called Howard, saying he didn't know her telephone number.
In his final argument to the jury, Assistant Public Defender Christopher M. Cosgrove said:
"I can't answer why Richard Lapointe, after sitting in this courtroom hearing Nathalie Howard say he called her that night, got up there and said, 'No, I didn't call her.' . . . But ask yourselves this: Is that the statement of a cunning killer who is trying to cover his tracks, or is that vintage Richard Lapointe? Did saying that help his case at all?
"No, it just added to your knowledge of Richard Lapointe as a person with a very poor memory, a person who doesn't process information, and a person who doesn't always say the same things the same way on different occasions."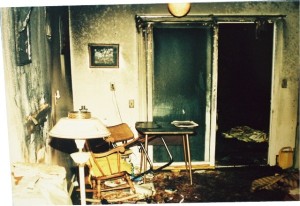 Jim Michaud / Journal Inquirer
Bernice Martin's fire-damaged apartment as photographed by police.
————————————
The following sidebar was published with Part 4 of the Journal Inquirer series "Tainted Justice," on Thursday, January 12, 1995.
Inconsistencies mar arguments against defendant
By ALEX WOOD
Journal Inquirer Staff Writer
Manchester police Detective Paul R. Lombardo acknowledged during Richard Lapointe's trial that the second of the three confessions Lapointe signed about the murder of Bernice Martin contained no information that anyone could not have known.
Lapointe's first confession was only two sentences long, and Lombardo testified that he didn't believe its only details: that Martin's death was an accident and that Lapointe's mind had gone blank.
So Lombardo in effect admitted that during the more than four hours they spent together on July 4, 1989, Lapointe provided no details that would have been known only to Martin's killer.
But Assistant State's Attorney Rosita M. Creamer sought to convince the jury trying the charges against Lapointe in Hartford Superior Court that the defendant's admissions to Lombardo included verifiable information about the crime that even the police didn't know at the time.
The prosecutor's evidence for this was part of Lapointe's second confession, the claim that Lapointe said he had punched Martin.
Creamer suggested that the punch was verified by an associate state medical examiner's finding that there were "three areas of hemorrhages or contusion" – bruising – on Martin's lip.
"There was no knowledge of the defendant having struck Mrs. Martin until he said so," Creamer told the jury.
But there are problems with that claim.
One is that all Lapointe's confession says about the blow is, "I hit her." It doesn't say "I hit her in the mouth," or the face, or the head, and Lombardo testified that Lapointe gave him no information about how or where he hit Martin.
A bruise anywhere on Martin's body could be portrayed as corroborating Lapointe's statement; and it is hardly surprising that the body of Martin, who was raped, strangled, and stabbed 11 times, bore bruises.
It also shouldn't have been news to Manchester police that someone had hit Martin. A 1988 FBI analysis of the crime, done to assist the police, concluded (emphasis added): "The victim was knocked about, strangled, stabbed, and scalded."
The crime analysis wasn't made public during Lapointe's trial, but the Journal Inquirer gained access to it through a freedom-of-information request.
Assistant State's Attorney Creamer's claim that there was new information about the crime in Lapointe's second confession wasn't the only questionable point in her final argument.
She also suggested that Lapointe was trying to control how quickly the crime was discovered when he volunteered to check on Martin after her daughter, Nathalie Howard, worriedly called his house the evening of March 8, 1987.
"Just as he exerted his power over the powerless Mrs. Martin, he wanted to control the detection of this crime," Creamer told the jury.
To support this claim, Creamer said Lapointe, who had never learned to drive, didn't walk the shortest possible route to Martin's apartment after getting Howard's phone call.
Citing testimony by Christopher Marvin, the deputy fire marshal of Manchester's 8th Utilities District, Creamer argued that the quickest way from Lapointe's home at 75 Union St. to Martin's apartment at Mayfair Gardens was "through the back yards and the Lithuanian Club."
But measurements by the Journal Inquirer on maps obtained from the Manchester Public Works Department show that the "shortcut" through the Lithuanian Hall property into Mayfair Gardens is not demonstrably shorter than the route Lapointe said he took: south from his condominium to a small side street, Wood Lane, to North Street; and down North Street to North Main Street, where he turned left toward Mayfair Gardens.
By that route the distance from 75 Union St. to Martin's former apartment, 251-A N. Main St., is 1,800 feet. The Lithuanian Hall route runs 1,810 feet, assuming that Lapointe followed concrete paths through the apartment complex. If he had cut across the grass between the Mayfair Gardens buildings, he could have shortened it to 1,640 feet.
If, instead, Lapointe had cut through the back yards of Golway Street homes, he could have reduced the distance further to 1,550 feet, still only 14 percent shorter than the route he said he took. But, in raising this possibility, Creamer was faulting Lapointe for failing to commit trespassing.
How Creamer's claim that the routes "through the back yards and the Lithuanian Club" were quicker than Lapointe's route became part of the record of the case is also worth noting.
Creamer obtained that testimony from defense witnesses – Marvin and Lapointe himself – through the kind of leading questions lawyers are allowed to ask opposing witnesses on cross-examination.
But the real origin of her theory appears to have been a report Detective Lombardo wrote about the time of Lapointe's arrest, and the usual way to put it on the record would have been to have Lombardo testify directly about it.
Prosecutors didn't do that, and there were good reasons why.
In his report Lombardo claimed to have discovered a small path leading from the northwest corner of the Mayfair Gardens complex to Golway Street near its intersection with North Street. He drew that path on a map, and it clearly involves trespassing across the yards of Golway Street homes.
Further, Lombardo wrote that in following this route he found that it was only a tenth of a mile from Lapointe's residence to Martin's apartment.
That's impossible. Measurements by the JI on the Public Works Department map show that the straight-line distance from 75 Union St. to 251-A N. Main St. is 1,130 feet, or more than two-tenths of a mile.
If prosecutors had asked Lombardo about his claim on direct examination, they would have invited potentially damaging cross-examination about its inaccuracy.
In any case, unless one presumes, as prosecutors did, that Lapointe killed Martin, the claim that he tried to delay discovery of the crime by failing to take the shortest route lacks logic.
If Lapointe did not commit the murder, he had no way of knowing he was in the midst of a major crisis. All he knew was that Howard could not reach her mother by telephone – and that didn't necessarily mean that something terrible had happened.
Lapointe testified that he realized Howard was concerned about her mother, walked quickly toward Martin's apartment, and believed at the time that the route he took was the quickest.
It would be more plausible to argue that Lapointe would have shown guilty knowledge of the crime – a clear awareness no one else had that something was amiss – had he run to the apartment. But there is no evidence that he did that.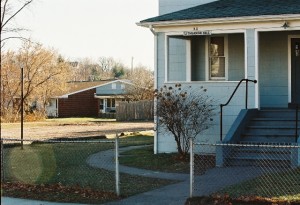 Jeff Kiely / Journal Inquirer
The Lithuanian Hall on Golway Street.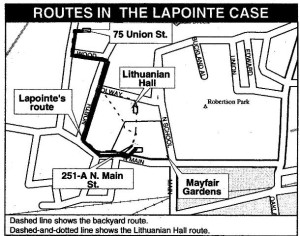 DeLorme Mapping, Freeport, Maine
————————————
The following is Part 5 of the Journal Inquirer series "Tainted Justice," published on Friday, January 13, 1995.
Lying accepted investigative tool
But deception throws doubts on confessions, investigators' credibility
By ALEX WOOD
Journal Inquirer Staff Writer
If you lie to a police investigator, it can be a crime.
But if he lies to you, it's OK.
Letting the police lie to get the truth in criminal investigations is a concept that has gained wide acceptance in American law enforcement and in the nation's courts, including the Supreme Court.
Although courts have expressed some ambivalence on the subject, they have ruled that police interrogators may use outright lies as well as subtler forms of deception to extract confessions from criminal suspects. And such practices have been urged on police by writers of how-to-do-it manuals about interrogation.
In one of the best-known of these manuals, Fred E. Inbau and John E. Reid advise interrogators of suspects "whose guilt is definite or reasonably certain" to display an air of confidence in the suspect's guilt.
"We were helping him to get to the truth."
Detective Michael Morrissey
on the investigation
of Richard Lapointe
They go on to say that "the interrogator must give no indication that he is being influenced by what the subject may state in behalf of his innocence; this should be so even when the interrogator actually realizes the reasonable implication of possible innocence in some fact or evidence referred to by the subject."
Such advice makes clear that the police officer is expected to show more confidence in the suspect's guilt than he may actually have.
The Manchester police investigation of the murder of Bernice Martin – in particular, the secretly made tape recording of Detective Michael Morrissey's July 4, 1989, interview with Karen Lapointe, wife of the suspect, Richard Lapointe – illustrates how such techniques are sometimes put into practice.
Morrissey later testified that he considered Karen Lapointe a "hostile" witness, and almost the first thing he told her was that police were sure her husband had murdered Martin, her grandmother.
That was a lie, and Morrissey proceeded to buttress it with other lies, claiming falsely that police had physical evidence and a confession proving her husband's guilt.
The 1969 U.S. Supreme Court decision that is considered the leading precedent on police deception devotes only two sentences to the issue. The decision deals with a confession obtained from an Oregon murder suspect after police told him falsely that his cousin had confessed to involvement in the crime.
The decision, written by Justice Thurgood Marshall, one of the court's leading liberals, says the police misrepresentation was relevant but "insufficient in our view to make this otherwise voluntary confession inadmissible."
The Richard Lapointe case and others like it raise many questions about that tolerant attitude toward lying by police. Among the most serious is whether lies told by the police may induce innocent people to confess falsely.
A Florida case from 1973 – in which the defendant was convicted – illustrates one obvious way that might happen.
The suspect, Jackson B. Burch, was interrogated for 5-1/2 hours by five Palm Beach County sheriff's deputies about the death of 18-year-old Pamela Curry, whose body had been buried in a pump house by a sea wall.
Burch maintained his innocence in the face of repeated accusations and fabricated evidence. According to a Florida Supreme Court decision, he eventually agreed to take a lie-detector test but was given a fake one, then told it proved that he had lied in denying he had committed the murder.
Next a detective told Burch that he would decide whether to charge him with first-degree murder, which under Florida law carried the death penalty, or second-degree murder, which carried a seven- to 20-year prison sentence.
The detective advised Burch to consider those options when deciding whether he should confess and explain the circumstances of the crime, according to the court decision.
At that point, the court decision said, Burch did confess, though his admissions included a claim that he had been "mentally blanking out" during an assault on the girl with a pocket knife.
The Florida Supreme Court ruled that Burch's confession was admissible evidence at his trial because he had been given the standard "Miranda warnings" about his right to a lawyer and his right to remain silent. He also had been told he was free to leave the sheriff's office at any time.
Burch went to prison and remains there today. In the eyes of the law he is guilty.
But because of the official lies and manipulation, the case remains troubling. Burch was told in essence: "We've got you, and you could face the death penalty. But if you confess, you may be able to persuade us to send you to prison for as little as seven years."
Why should that kind of pressure work only on a guilty person?
    Minds turned inside-out
Psychologists and other students of confessions say that even an innocent suspect sometimes may come to believe in his own guilt when an authority figure confronts him with assertions that the evidence is overwhelming. Experts call it a "coerced-internalized confession."
"The influence tactics routinely used in interrogations are sufficiently powerful to cause some innocent persons to at least temporarily come to believe that they have committed a serious crime," Richard Ofshe, a sociology professor at the University of California at Berkeley, wrote in a 1989 paper.
Ofshe is one of the country's best-known students of false confessions, brainwashing, and "recovered" memories, which often involve claims that a person was abused as a child.
Claims that the suspect blacked out recollections of the crime often figure prominently in accounts of seriously disputed confessions.
Police generally view suspects' blackout claims skeptically and encourage them only as a way of appearing supportive and cajoling more admissions. Police tend to view the claims as a defense mechanism – a way for a suspect to admit guilt without having to recount the sordid details of the crime.
Morrissey testified that when Richard Lapointe said he was blacking something out, "I went along with the fact that he couldn't remember, and I said that . . . it was important to remember. And I considered it as a defense mechanism on his part when he got to a sensitive area, and I would say, `Why don't we start over?'"
But there is another explanation of why a suspect might say he was blacking out when confronted with false claims of overwhelming evidence against him.
An innocent person, believing that he somehow must be guilty, may seek to reconcile that belief with his lack of memory of the crime by concluding that he must have had a blackout.
Faced with false claims of strong evidence against him, "an innocent suspect, who naively assumes that police officers would not lie, is likely to experience confusion, anxiety, distress, and might ultimately come to doubt his or her memory," Ofshe wrote in a 1992 paper.
According to police testimony, Richard Lapointe made a number of claims about blacking out during the 9-1/2 hours he was interrogated at the Manchester police station on July 4 and 5, 1989. Statements that he blacked out or couldn't remember some or all of the elements of the crime appear in all three of his written confessions.
Similarly, in Connecticut's notorious Peter Reilly case, Reilly repeatedly denied any memory of the murder of his mother, Barbara Gibbons, during eight hours of exhausting interrogation by the state police the day after the murder.
He finally confessed only after being told he had failed a lie-detector test that could "read his brain," according to Donald S. Connery's account of the tape-recorded interrogation in the book "Guilty Until Proven Innocent."
Connery said the police also told Reilly at least twice that his guilt could be proven through independent evidence – which was a lie.
A jury convicted Reilly of manslaughter, but eventually the charges against him were dismissed by a judge after the prosecutor died and his successor discovered that evidence of Reilly's innocence had been hidden.
The blackout issue also figured prominently in yet another interrogation in Florida – of Tom F. Sawyer, who confessed to the 1986 torture-murder of his next-door neighbor, Janet Staschak, in Clearwater.
Sawyer, a recovering alcoholic who hadn't had a drink in 13 months, confessed during 16 hours of police interrogation after he had worked a full day as a groundskeeper at a golf course.
Like Reilly, Sawyer confessed only after being told he had failed a lie-detector test, a questionable claim because of irregularities in the way the test was administered.
The detectives also falsely told Sawyer there was physical evidence of his guilt. They said his fingerprints had been found in the victim's apartment and car and that his hair samples matched hairs found on her body, according to Ofshe, who analyzed the tape-recorded interrogation and testified for Sawyer.
In excluding the confession, a Florida judge wrote that the interrogators undermined Sawyer's confidence in his memory by suggesting he could have had a blackout like those he had experienced when he was drinking.
The detectives also suggested that Sawyer's remorse might cause him to resume drinking if he failed to confess, according to the dismissal decision, which was upheld by a Florida appeals court.
In the face of those pressures, Sawyer's belief in his memory collapsed, and he agreed that he must have committed the crime, Ofshe wrote.
Richard Lapointe likewise was encouraged to believe that he might have blacked out a memory of murdering Bernice Martin.
Manchester police Detective Paul R. Lombardo testified that Lapointe asked him during the interrogation whether it might be possible for someone to commit a crime he couldn't remember. Lombardo said he replied it "might be possible."
Detective Morrissey admitted telling Karen Lapointe many things that were untrue, but he defended his statements to her that the police were trying to help her husband. "We were helping him to get to the truth," Morrissey testified.
    Double standard unrealistic
In permitting police to use deception in the absence of a full videotape recording of the interrogation, the courts would seem to believe that an interrogator can act like a scientist manipulating a sample on a laboratory slide. He is presumed able to dangle false information in front of a suspect but to observe and report the suspect's responses fairly and accurately.
But is that realistic in light of the officer's interest in solving the crime and the intense conflict of wills that can be involved in obtaining a confession from an unwilling suspect?
In addition, police deception involves a troubling moral ambiguity. The interrogator is licensed to ignore normal rules of decent human conduct by lying freely. But he then is expected to observe those rules scrupulously when reporting the interrogation and testifying in court.
Is it realistic to expect an officer to compartmentalize his behavior to that extent? Or is it more realistic to expect that the feeling of being above the rules that apply to others may seep into areas that are supposed to be sacrosanct, such as sworn testimony?
For Jerome H. Skolnick and Richard A. Leo, a law professor and graduate student at the University of California at Berkeley, the answers, respectively, are "no" and "yes."
"When courts allow police to deceive suspects for the good end of capturing criminals – even as, for example, in `sting' operations – they may be tempted to be untruthful when offering testimony," the two wrote in a 1992 paper.
Another troubling aspect of police deception is that it is likely to be more effective against an innocent person or first-time offender than against a hardened criminal.
A repeat offender who has been lied to in past interrogations – and has had time to figure out what happened during his subsequent court case – is less likely to fall for police lies than a law-abiding person who naively trusts the police.
    Deception requires safeguard
So what might be done to overcome the pitfalls of officially sanctioned police lying?
To take the position that police should never be allowed to lie would rule out all undercover investigations, which inevitably involve some deception.
But deception during an interrogation could be limited by requiring an officer to get advance approval from a supervisor for any specific tricks he planned to use. That might impress on police that deception is a sensitive technique and establish for the record that it has been used so it would be harder to deny and easier to identify any consequences that deviated from justice.
Morrissey testified that he got no approval from anyone before lying to Karen Lapointe.
In the end, police deception has the same effect as lying in any other human relationship: A person who lies is less likely to be believed. The police may undermine their credibility in the community when it becomes known they have lied.
To Skolnick and Leo, police deception is particularly corrosive in light of the deep division in attitudes between middle-class Americans and the urban poor.
Noting that "urban juries are increasingly composed of jurors disposed to be distrustful of police," they add:
"Deception by police during interrogation offers yet another reason for disbelieving law-enforcement witnesses when they take the stand, thus reducing police effectiveness as controllers of crime."
————————————
The following sidebar was published with Part 5 of the Journal Inquirer series "Tainted Justice," on Friday, January 13, 1995.
Without tape, confession can be unassailable
By ALEX WOOD
Journal Inquirer Staff Writer
When there are serious disputes about what happened during police questioning that led a criminal suspect to sign a confession and there is no tape recording of the interrogation, the defense lawyer faces a dilemma from which there is virtually no escape.
On the one hand he must convince a jury that his client is unreliable enough to have signed a false confession.
But he also must convince the jury that the defendant is reliable enough that his version of what happened during the questioning should be believed over that of a police officer.
When a confession-based case comes down to what lawyers call a "swearing contest" – the police officer's sworn testimony against that of a suspect who has signed a confession, sworn to it, and then sought to repudiate it – the officer is the obvious favorite to win.
But if the police tape the interrogation, clever psychologists and defense lawyers inevitably will pore over it word by word to find any slip-up that might persuade a judge to throw the confession out of court.
Indeed, in suppressing confessions judges have been known to quote at length from transcripts of taped questioning, or even append the full text to their decisions, to support the conclusion that the confessions resulted from psychological manipulation and coercion.
In light of those circumstances, it is easy to see why police often choose not to tape their interrogations.
What is a good deal harder to understand is how that decision can be reconciled with the ultimate objective of the criminal justice system: to do justice.
It is a continuing source of puzzlement to some that the law and the courts in most states leave to police the decision about whether to tape interrogations.
Yale Kamisar, a University of Michigan law professor who has written extensively on criminal justice, says in one essay: "It is hard to see why the judges . . . are so apathetic about the apparent unwillingness of police interrogators to use tape recordings."
Kamisar's essay centers on an Iowa case involving the legal admissibility of a defendant's confession. The professor argues that one effect of recording would have been to save public money and judicial resources:
"In all likelihood the use of a recording device, a tiny administrative and financial burden, would have spared the state the need to contest the admissibility" of the defendant's "disclosures in five courts for eight years."
   For juries, a clearer view
When a video recording is used in court, it can provide a jury with information available in virtually no other way.
The videotape of New York subway vigilante Bernhard Goetz's confession played a major role in his being acquitted of the major charges facing him, Professor George Dix of the University of Texas Law School says.
The tape showed Goetz's "emotional explanation of the fear he had experienced before the incident and his prior victimization from assailants," Dix wrote in a 1989 article.
As a result, Dix wrote, the jury was undoubtedly convinced that Goetz shot four youths who had accosted him "in actual fear that they were about to assault and rob him."
The most common argument against taping confessions is that a guilty suspect may freeze up in the presence of a tape recorder or video camera and fail to confess.
"The only real reason advanced by police for their frequent failure to electronically record an entire interrogation is their claim that recordings tend to have a `chilling effect' on a suspect's willingness to talk," the Alaska Supreme Court wrote in a 1985 decision.
The court rejected that argument on grounds that the accused has a constitutional right to remain silent. The court used the decision to require recording of all interrogations of suspects in Alaska police custody unless the police have a good excuse, such as an equipment failure.
Indeed, it is arguable that a visible tape recorder or camera does nothing more than remind the suspect of the familiar principle, "Anything you say can be used against you." And that's something the U.S. Supreme Court already requires police to tell suspects facing interrogation in police custody.
Moreover, the danger of inhibiting a suspect can be reduced or eliminated if the taping is covert. Easily hidden microphones, tape recorders, and even video cameras are widely available today.
The chief drawback to covert taping is similar to the problem with all police uses of deception: Ultimately, word of the practice will spread through the community, increasing suspicion and mistrust of the police.
Savvy repeat offenders will assume that their interrogations are being taped, while first-time offenders and the innocent may not.
Another argument against covert taping is that it eliminates an important check on the police. If a suspect knows he is being taped, it will be harder for a rogue police officer to conceal a tape from the courts.
Only three states – Alaska, Minnesota, and Texas – require recording of interrogations of suspects in police custody. Britain also requires recording of most interrogations in police stations.
The possibility that police will lie about what happened during an interrogation is only one reason for requiring that it be recorded.
"Although there are undoubtedly cases where the testimony on one side or the other is intentionally false, dishonesty is not our main concern," the Alaska Supreme Court wrote. "Human memory is often faulty – people forget specific facts or reconstruct and interpret past events differently."
The court also stressed that it was not acting only to protect the accused:
"A recording also protects the public's interest in honest and effective law enforcement and the individual interests of those police officers wrongfully accused of improper tactics.
"A recording in many cases will aid law enforcement efforts, by confirming the content and the voluntariness of a confession when a defendant changes his testimony or claims falsely that his constitutional rights were violated."
One crucial issue with respect to recording is what is recorded. Many police departments turn on a tape recorder or video camera only at the end of the interrogation, asking the suspect to repeat admissions he already has made.
But by doing that the police still withhold crucial information, which taping of the complete interrogation would provide, about how the suspect was persuaded to make those admissions.
Though taping interrogations might mean more acquittals, it also could lead to more justice.
In upholding a trial judge's decision to throw out the confession of murder suspect Tom F. Sawyer, a Florida appellate court praised the Clearwater Police Department for its practice of tape-recording interrogations.
"We also recommend this practice to all other law enforcement agencies, so that challenges to future confessions can be exposed to the light of truth," the court wrote.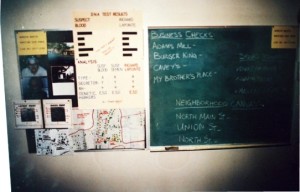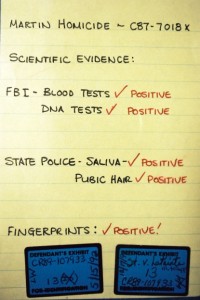 Jim Michaud / Journal Inquirer
These displays – many containing false or misleading information – were posted at Manchester police headquarters during Richard Lapointe's interrogation.
————————————