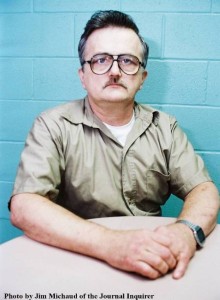 This soft little man with Dandy Walker syndrome has spent 20 years in prison for a crime he never could have even begun to commit.
Richard Lapointe was convicted of the 1987 rape and murder of his wife's grandmother, Bernice Martin, who was found stabbed, raped and strangled in her burning Manchester apartment.    Two years after the crime, he was questioned by police until 1:30 a.m. during which time he had signed three inconsistent confessions.  His approximately 25 current supporters, the "Friends of Richard Lapointe" have worked tirelessly for his freedom. Centurion Ministries is trying to prove Lapointe is innocent.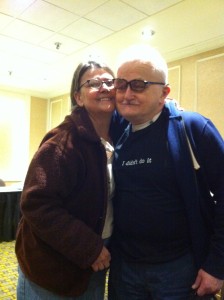 October 2, 2015: Connecticut will NOT retry Richard Lapointe! Read more at http://www.courant.com/breaking-news/hc-richard-lapointe-after-murder-case-against-him-dismissed-i-feel-great-20151002-premiumvideo.htm.
April 10, 2015: Great News! After being imprisoned for 26 years, Richard Lapointe, 69, was been released on $250,000 bond, of which 10% needed to be paid. Richard's supporters were glad to pay the bond! His conditions of release is to abide by a curfew from 7 p.m. to 7 a.m. He must report his whereabouts to probation and not have contact with his family. The courtroom was packed with Richard's supporters! Once outside the courthouse, Richard wore a black tee shirt with the words "I didn't do it" across his chest. Later in a press conference, he stated that he was able to survive behind bars by thinking he would go home. "I'm going home, I'm going home." Richard Lapointe must return to court on May 15 and which time the prosecuters must report the status of their review of the evidence and witnesses. They are not sure if they will re-try the case. Richard is living with a young couple that volunteered to care for him until he is re-integrated into the community. Read story at http://www.courant.com/news/connecticut/hc-lapointe-release-0411-20150409-story.html
March 31, 2015: The Connecticut Supreme Court has ordered a new trial for Richard Lapointe. In a 4-2 ruling, the court said that Lapointe was deprived of a fair trial because prosecutors failed to disclose notes by a police officer that may have supported an alibi defense.
September 17, 2013: Last October, the state Appellate Court overturned Richard's convictions and ordered a new trial. Finally, his case is heard by the state Supreme Court.
Click here for the Supreme Court link: http://www.jud.ct.gov/external/supapp/Summaries/Docket/19079.htm
October 2012: Richard Lapointe is getting a new trial!!! The court ruled, "On appeal, the petitioner claims that the court improperly rejected his actual innocence and ineffective assistance of counsel claims. We conclude that the court properly determined that the petitioner failed to prove his actual innocence claim, but we agree with the petitioner that the state's suppression of certain material evidence deprived him of a fair trial and that he was prejudiced by his prior habeas counsel's failure to pursue that issue at the first habeas proceeding. Accordingly, we reverse in part the judgment of the habeas court and order  a new trial."On May 18, 2012, a band of people known as the Friends of Richard Lapointe assembled at the Connecticut Appellate Court. Richard Lapointe is a man with a disability who confessed to a crime he did not commit. We watched his lawyers continue their struggle to get Richard a new trial. Congrats to Richard and to his attorneys on their victory!!!
To read the story, check  http://www.courant.com/news/connecticut/hc-lapointe-new-trial-20121001,0,7578147.story.  Click here for the actual court ruling!
Click here for the latest articles.
Is it ever too late to do the right thing?
For comments or questions on this website, please contact the webmaster, Attorney Anne Treimanis at [email protected]. More on Attorney Treimanis at  www.spedlawyers.com.