The JOURNAL INQUIRER published the following on Monday, January 1, 1996.
reprinted with permission
Gloves still a mystery in Martin case
By Alex Wood
Journal Inquirer
Most Americans probably know by now that a pair of gloves was important evidence in the O.J. Simpson murder case.
But for all the public attention to Manchester's controversial Bernice Martin murder case, one of the least known facts about it is that authorities also recovered a pair of gloves – probably belonging to the killer – at the crime scene.
During the lengthy 1992 trial of Richard Lapointe, who was convicted of murdering Martin, prosecutors presented no evidence tying him to the men's black driving gloves found in Martin's bedroom on the night of the March 8,1987, slaying.
Martin lived alone, and it is highly unlikely that the gloves were hers.
A Journal Inquirer examination of Manchester police files on the case produced no evidence that police connected the gloves to any suspect, leaving them an enigma.
Unlike the gloves in Simpson's case, those in Lapointe's are unlikely to yield any courtroom drama – as when Simpson appeared to struggle to don a glove in court.
The gloves found in Martin's apartment are knitted, with leather or fake leather sewed to the palms. They are cheap, thin gloves of a type common in 1987, lacking the insulation that most winter gloves have today.
They clearly appear designed for a man's hand. But even today most knitted men's gloves are sold only in a single size.
The gloves were in reasonably good condition when a reporter examined them in the court clerk's office. There were holes in the ends of both middle fingers, a larger one on the left glove, and scuff marks on the "leather" at the tips of several fingers.
The right glove was found on the bedroom floor, while the left was found folded over at the head of Martin's bed.
Deep bloodstains and other evidence found on the bed indicate that much of the horrific violence committed against Martin probably occurred there.
Found on both gloves were hairs microscopically similar to Martin's, according to the testimony of Beryl Novitch, a lead criminalist at the state police forensic science laboratory. Hair can't be identified for certain as coming from a particular person, Novitch explained.
Although prosecutors duly introduced the gloves into evidence at Lapointe's trial, there was virtually no discussion of their significance.
But that significance was clear to FBI analysts who studied the crime in 1988 to aid the Manchester police investigation.
"The offender had come to this particular residence prepared to the degree that he had worn gloves," the analysts wrote in their report.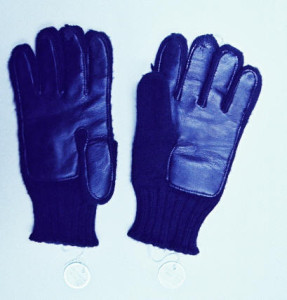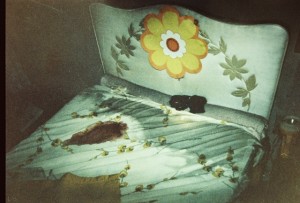 Jim Michaud / Journal Inquirer
Evidence gathered in the Martin murder case included the pair of gloves found at the murder scene and a photograph showing one of the gloves at the head of the victim's bed.