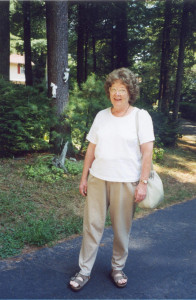 IN LOVING MEMORY of ELIZABETH A. MARTIN
"Liz" Martin was the second wife of the late William Martin, the father of Karen Lapointe, who was Richard's wife.
After Richard Lapointe was arrested, the whole Martin family believed he was innocent.
That is, until the Manchester Police Department convinced the Martin family that Richard was guilty of the murder of Bernice Martin.
After that, all of Richard's in-laws pulled away – except for Liz. After reading the book, "Unequal Justice" by Robert Perske, she made an anonymous telephone call to him. She voice her opinion that "Richard was being railroaded" like some of the persons she read about in his book.
At first she asked for anonymity because she did not want to be ostracized by the Martin family. Later, however, she did speak out in public and she even worked with Richard's defense team.
Elizabeth Martin passed away on October 16, 2007. She will be fondly remembered for her courage at such a trying time.
If she had not spoken out the way she did, there would have been no organization called "The Friends of Richard Lapointe."
submitted by Bob Perske
————————————————————————————
And the Lord said go
(Liz Martin loved this poem. It represents how she lived her life)
And I said who me?
And He said yes, you
And I said
But I'm not ready yet
And there is company coming
And I can't leave the kids
And You know there's no one to take my place
And He said you're stalling.
And the Lord said go
And I said but I don't want to
And He said I didn't ask if you wanted to
And I said
Listen I'm not the kind of person
To get involved in controversy
Besides my father won't like it
And what will the neighbors think?
And He said baloney.
And yet a third time the Lord said go
And I said do I have to?
And He said do you love Me?
And I said
Look, I'm scared
People are going to hate me
And cut me up in little pieces,
I can't take it all by myself,
And He said where do you think I'll be?
And the Lord said go
And I sighed
Here I am, send me.